ARTICLES
Posted by Carole Baggaley on
Posted by Di Gilpin on
The 'Fletcher of Saltoun' Award for Di for her outstanding achievements in the Arts and Humanities in Scotland and Internationally.
Posted by Di Gilpin on
It has been an incredible few months working on our new designs and colours for Edinburgh.  Let me introduce you to Polar! A Gansey with a twist! Knitted here in the single colour version in Lalland Lambswool colour : Agate  Knitted in the round and seamlessly, there are gussets at both the neck and underarm to create a great fit! Twisted cable ribs and the Compass Design complete the picture. Pattern to be released at EYF! Here is Polar in Driftwood with the Compass in Haar! We are delighted too with our new Shoowa designs: A beautiful swing jacket in...
Posted by Di Gilpin on
Whoop Whoop! Our 2nd Batch Saiorse Wool Cashmere has arrived from Uist Wool! It is just so squishy, bouncy and gorgeous! We have 2 natural colours and some fab new patterns! Our special Botanist friend Jill is now preparing to dye some special batches for us for EYF...using plants grown by her and materials foraged in our East Neuk she will be making small batches of very special colours which will speak volumes of the land, the place and the Scotland I adore. Love this sustainable project with Claddach Farm and Uist Wool...everyone gains and grows from it!    We...
Posted by Di Gilpin on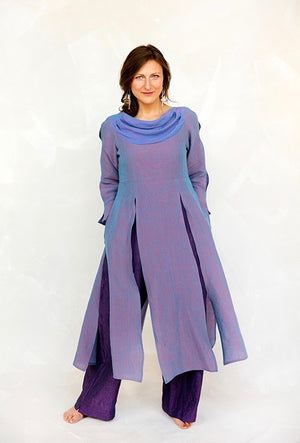 We are thrilled to announce a very super special day at the Studio........Tuesday August 14th 1.30 to 6pm when we will be hosting Terry and Angelika who will be presenting their late summer collection with a preview of AW/2018/19! When I tried the outfit, it was like coming home, it feels so right. Thank you for making me feel beautiful!" "I love your clothes, the cut the colour and the sheer joy of wearing them."Terry and Angelika both have a background in art and design. They met over 28 years ago and amalgamated their different talents to create a clothing...
---