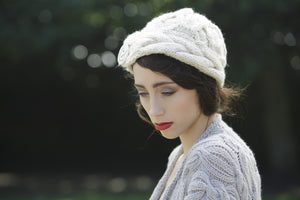 Angel Bonnet : Pattern
The Angel Bonnet is beautifully soft with an interesting texture and structure created by the combining of 2 fabulous yarns and an unusual construction.
This piece is knitted in 2 parts. A cabled rope headband is knitted first and then the lovely crown piece, also cabled, is knitted up integrally from the ban.
This pattern is for intermediate knitters with a knowledge of cabling.